भेल पूरी Bhelpuri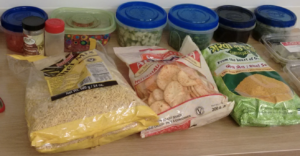 भेल पूरी Bhelpuri
बीस लोगों के लिए 20 serving
दो कप उबले हुए छोले       2 cups boiled chickpeas
दो कप टमाटर                2 cups tomatoes
दो कप आलू                  2 cups potatoes
दो कप अनार                 2 cups pomegranate
दो cup हरी चटनी (पुदीना, धनिया, जीरा, मिर्च, नमक, चीनी)       2 cups green chutney (Mint, Cilantro, Chili, salt, sugar, cumin, green mango)
दो कप इमली की चटनी ( इमली, जीरा, नमक, चीनी, मिर्च) 2 cups tamarind chutney (tamarind, cumin, salt, suger, chili)
तीन कप दही में चीनी मिली हुई        3 cups yogurt mix with sugar
पतले सेव      thin chickpea flour noodle (sev)   
एक बड़ा बैग भेल पूरी मिक्स       one big bag of bhel puri mix
चलिए बनाते हैं Let's make it
सबसे पहले भेलपूरी मिक्स कटोरे में निकालिए          First add bhel puri mix in the bowl. 
फिर छोले, टमाटर, आलू, हरी और इमली की चटनी अच्छी तरह से मिलाइए  then add chickpeas, tomatoes, potatoes and green and tamarind chutney
अच्छी तरह से मिलाइए    Mix well
अब दही और थोड़ी और चटनी, सेव, और अनार के साथ सजाइए.   Garnish it with yogurt, little more chutney sev, and pomegranate. Enjoy!!